We love StoriesBig Finish produce great full-cast audio drama for CD and download, featuring many popular television fantasy series.
Tenth Doctor and Rose in HMV
16 June 2018
In an exclusive deal with High Street retailer HMV, Doctor Who: Infamy of the Zaross produced by Big Finish Productions and starring David Tennant and Billie Piper will be available for the first time on vinyl record.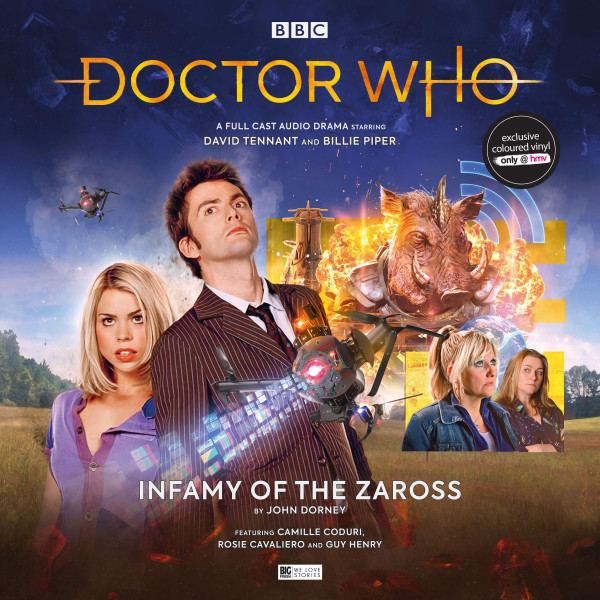 From Saturday the 16th of June, HMV will be stocking a strictly limited pressing of Infamy of the Zaross on yellow 180gm heavyweight vinyl. This will be available in participating stores only, in a run of only 750 units.
To quote the Tenth Doctor... "OH YES!"
A spokesperson from HMV said, "We're delighted to welcome Doctor Who back on vinyl in time for Father's Day. It's just what the Doctor ordered!"
Infamy of the Zaross guest stars David Tennant as the Tenth Doctor, Billie Piper as Rose (for the first time at Big Finish) and Camille Coduri as Jackie Tyler.
When Jackie Tyler takes a trip to visit her old friend Marge in Norwich, she finds her holiday immediately interrupted in the worst way possible – an alien invasion! The infamous Zaross have come to take over Earth. Or have they?
After Jackie calls in the Doctor and Rose to deal with the menace, it soon becomes clear that this is a very unusual invasion indeed.
The Doctor is about to uncover one of the most heinous crimes in the history of the galaxy. And if he can't stop it an awful lot of people are going to die.
"I'm delighted to see Infamy of the Zaross on vinyl, especially in HMV," says writer John Dorney. "I've still got my Gran's old His Master's Voice record player in my house. Quite a prized bit of furniture which has such a store of memories for me... This record renaissance is delightful and I'm looking forward to listening to that beautiful warm sound on yellow vinyl soon."
"It was such a special time for me working with Billie and David on the TV show," says Nicholas Briggs, Voice of the Daleks and executive producer for Big Finish, "and it is such an honour to revisit Doctor Who with them on audio."
Executive producer Jason Haigh-Ellery says: "Getting David and Billie back together was definitely on my bucket list – two wonderful actors who created an era of Doctor Who which is so fondly remembered and who brought a different aspect of the relationship between the Doctor and his companion to the fore – love, both platonic and unrequited. It's great to have the Tenth Doctor and Rose on record!"
Make sure you head down to your local HMV and see if you can find a copy of Infamy of the Zaross on vinyl. Or contact HMV on social media to see which branches have it in stock.
You can also get the adventure on CD or download from Big Finish at £10.99 on CD or £8.99 on download.
And if you love the idea of playing records, we have more Doctor Who stories on vinyl.
Spare Parts tells the story of the genesis of the Cybermen. Dark, moving and terrifying, it was the inspiration for the return of the Cybermen in New Series Doctor Who.
And The Chimes of Midnight is a classic Eighth Doctor tale with companion Charlotte Pollard, a favourite for listeners around Christmas time.
The Chimes of Midnight also contains a brand new documentary featuring some of the people involved in the making of this gorgeous release. You can hear an extract of the documentary below.