We love StoriesBig Finish produce great full-cast audio drama for CD and download, featuring many popular television fantasy series.
15 October 2017
Another busy week with some great special offers from Sixie! We round up all the news in case you miss anything.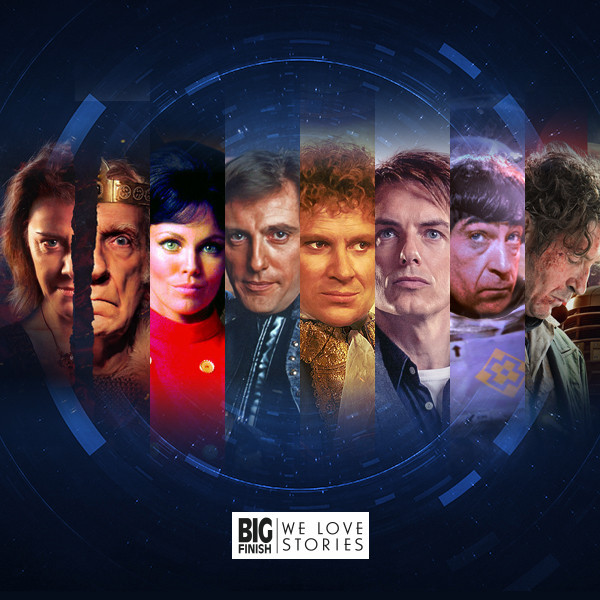 At the time of writing, we have some special offers on a range of Sixth Doctor adventures. These exclusive special prices will end on Wednesday 18th October 2017, midday UK time, so don't miss out. Check out all the stories on offer, including the special release, The Last Adventure.
And we still are running our Big Finish competition. Let us know what you think the spookiest Big Finish release is via Facebook or Twitter and you could be in with the chance of getting a digital download exclusive of Dark Shadows Bloodlust. Find more information on Monday's announcement.
Tuesday saw the announcement of Film and TV star Richard Armitage taking the lead in our adaptation of The War of the Worlds. The final chapter of Big Finish's HG Wells adaptations, The Martian Invasion of Earth sees our world battling for survival against an unrelenting alien force, out in February.
We had a variety of Doctor Who releases this week. On Wednesday the TARDIS went back in time with a Georgian tale on Earth, as Colin Baker stars as the Sixth Doctor with his companions Flip and Constance, played by Lisa Greenwood and Miranda Raison, in The Behemoth.
Bath, 1756 – and a very dashing gentleman known only as the Doctor is newly arrived in town, accompanied by his lady friends Mrs Clarke and Mrs Ramon. He's created a stir among the gentlefolk of Georgian high society – and a stir in the heart of merry widow Mrs Theodosia Middlemint, rumour has it.
They are not the only strangers from abroad causing tongues to wag, however. The mysterious Lady Clara, come from Amsterdam in the company of the noble Captain Van Der Meer, has the whole of Bath agog. Who is she, really? What is she, really?
But there's something terrible beneath the veneer of Georgian gentility. As awful a horror as the Doctor has ever exposed, hidden inside Balsam's Brassworks. Something that needs to be brought to light, for the sake of all humanity.
And on Thursday the Early Adventures of Doctor Who continued from last month's 10/10 adventure with the Second Doctor, Polly, Jamie and Ben finding themselves underground in deep water and deeper trouble, in The Outliers.
The TARDIS takes the Doctor, Ben, Polly and Jamie to a flooded underground town on an alien world. The streets are empty. The houses are bare. Not a trace of life.
The miners working here are vanishing. And it isn't long before the time-travellers are suspected of being responsible for the disappearances.
But even the authorities haven't fully realised the scale of the problem. There's something else on this world. Something dragging people away. And it won't stop until it's taken them all.
On Saturday we looked forward to a dystopian future, with the return of Survivors next month in Series Seven.
And for podcast fans, this week Toby Hadoke chats to someone who been an iconic alien, married an iconic companion & straddles both old & new Who in Who's Round. And Nick and Benji had guest star Claudia Grant (Susan in the First Doctor Adventures) a drama tease of The Tony and Cassandra Mysteries (Dark Shadows) and a special appearance of Richard Armitage.
And that's the Big Finish week! Make sure you follow our social channels: Facebook, Twitter, and Instagram for all the latest news.