We love StoriesBig Finish produce great full-cast audio drama for CD and download, featuring many popular television fantasy series.
SALE! 20 downloads now £2.99 each - Doctor Who, Blake's 7 and more
1 October 2019
It's October and officially autumn, so what better way to settle into the longer evenings than with a Big Finish audio? We've made it easier by dropping the prices on a huge selection of downloads to just £2.99.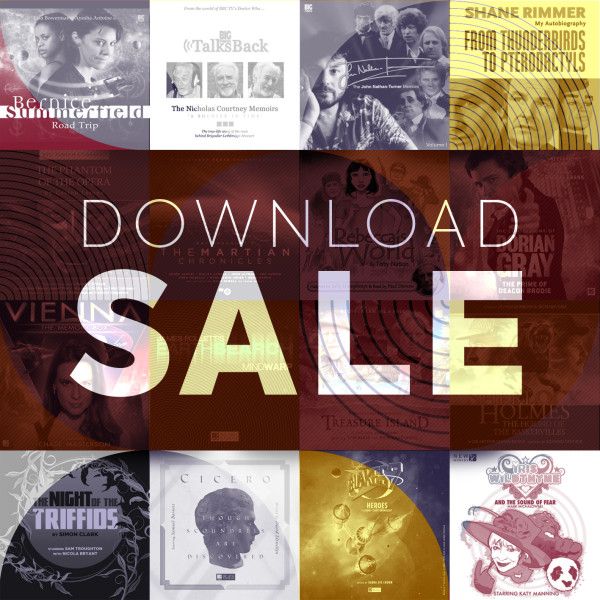 HOW TO GET THE DEALS
Head to the offer page at https://www.bigfinish.com/offers/v/octoberoffer and enter the access code AUTUMN to release all these special deals. The discount expires at 23:59 (UK time) on 07 October 2019, so move fast!
CLICK HERE TO ACCESS THE DEALS
WHAT'S ON OFFER?
These are the twenty titles available for just £2.99 each. From Blake's 7 to Bernice Summerfield, from Confessions to Classics, and from monsters to memoirs, there's something for everyone. Click on any title to read more, hear a trailer or an extract.
NOTE: individual discounts are not available from each release page. Please use the button above.
Bernice Summerfield Epoch
Bernice Summerfield – Benny to her friends – has lived through many adventures. She's a professor of archaeology from the 27th Century. She's travelled with the Doctor, set up home at various academic establishments and been across the galaxy from end to the other and beyond, battling the likes of Daleks and Draconians, Monoids and Martians. She's also battled pig-headedness, brutality and ignorance, and the troubling puzzle to find a decent drink...
Bernice Summerfield Road Trip
Three full cast audio dramas. Bernice Summerfield needs a job. Professor Harry Burtenshaw thinks she's just the ticket. But with the people of Lyndyaz celebrating their most important festival, and the ruling Dominicci Corporation maintaining control with draconian glee, has Bernice turned up in the wrong place at the wrong time?
Big Finish Audiobooks John Nathan-Turner Memoirs Volume 1-2
John Nathan-Turner was the ninth - and longest-serving - producer of "Classic" Doctor Who, running the show from 1980 until it was effectively cancelled in 1989. In this candid memoir he looks back over his years working on the series.
Big Finish Audiobooks The Nicholas Courtney Memoirs - A Soldier in Time
He's seen off Daleks, Cybermen and Yeti. He's witnessed Giant Robots running amok, met himself in the future and saved the world from the life-devouring Destroyer. He is, of course, Brigadier Lethbridge-Stewart, alias actor Nicholas Courtney. After five decades of acting alongside far more then just the eight television Doctors (nothing compared to the likes of Frankie Howerd, Donald Wolfit and Michael Winner), this is his story.
Big Finish Audiobooks Rebecca's World
"It was the eleventh day of the school holidays and Rebecca was bored. Bored. Bored. Bored." But events take a dramatic turn for the better (or worse) when she finds herself transported to a distant planet, whose people are terrorized by jelly-like monsters called Ghosts. Rebecca resolves to sort out their problems. Written by Terry Nation and narrated by Paul Darrow.
Big Finish Audiobooks From Thunderbirds to Pterodactyls - Shane Rimmer
Shane Rimmer's voice is familiar to millions from his role as Scott Tracy, the pilot of Thunderbird 1, but there are many other facets to his remarkable career. This wry and refreshingly frank autobiography sheds new light on some of the best-loved films and television series ever made, as well as revealing what life is really like for a jobbing actor in the sometimes less than glamorous world of showbusiness.
Big Finish Audiobooks The Martian Chronicles
Derek Jacobi and Hayley Atwell lead an all-star cast in The Martian Chronicles, a thrilling new dramatisation, reimagining Ray Bradbury's timeless fable of doomed Martian colonisation.
Big Finish Classics The Phantom of the Opera
In the cosmopolitan Paris of the 1880s, the new proprietors of the Opera House are amused to discover that their costly acquisition is said to be haunted. But their smiles quickly vanish, as tragedy follows misfortune: a murdered stagehand, a fatal accident, a missing girl. Fearful tales of the Opera Ghost race through the corridors and dressing rooms of the theatre.
Big Finish Classics Treasure Island
When young Jim Hawkins unexpectedly inherits a treasure map, he little knows what adventures await him. Pursued by pirates, betrayed by friends and beset by skulduggery, Jim must brave high seas and low cunning before he reaches the shores of Treasure Island.
Big Finish Classics The Picture of Dorian Gray
When Dorian Gray, a handsome young man about town, makes this wish, he can hardly guess that it will mark the beginning of a life of hedonism and debauchery.Soon enough, his webs of deception and deceit catch innocent victims, some of them his closest friends, and the only evidence of his misdeeds is a long-forgotten portrait in his attic…
Big Finish Originals Cicero - Though Scoundrels Are Discovered (ep1)
Marcus Tullius Cicero: a mere twenty-six years old, but a rising star in the Forum. Together with his brother, Quintus, Cicero must investigate the murder of Roscius's father and find the true culprit; but in their quest for justice, the brothers Cicero may be about to make some very powerful enemies indeed...
Blake's 7 - Audiobooks Heroes
Heroes or villains? Things are not always black and white in the dystopia ruled by the ruthless Federation. The crew of the Liberator are passionate in their opposition to the injustice and corruption of the government, but this group of convicts and outcasts aren't exactly angels themselves… Whether it's a large scale rescue mission, or a simple act of kindness, these stories explore an important question: what really makes a hero?
Confessions of Dorian Gray The Prime of Deacon Brodie
Inspired by Oscar Wilde's classic story of hedonism and corruption, The Confessions of Dorian Gray imagines a world where Dorian Gray was real, and his friendship with Oscar Wilde spawned the notorious novel.
Confessions of Dorian Gray The Mayfair Monster
London, 1999. As New Year's Eve approaches, some believe it will herald the end of the world, and when Dorian encounters renowned artist Natalie Isaacs in a bar, they embark on an intimate journey… but one with terrible consequences. Once the clock strikes midnight on New Year's Eve, it isn't long before the Mayfair Monster manifests.
Earthsearch Earthsearch - Mindwarp
Arama - a great domed city encased in rock, deep beneath the surface. Generation after generation of people have gone about their lives in a world of finite space and infinite resources - never pondering the many inconsistencies around them. They have been taught not to. Based on the novel by James Follett.
Iris Wildthyme The Sound of Fear
Time and Space. Good and Evil. Gin and Tonic. Hold on tight and brace yourself for a crazy ride with eccentric adventurer Iris Wildthyme (played by Katy Manning) as she travels through time and space aboard her trusty double-decker bus, accompanied by her best chum Panda and her new friend Captain Turner!
The Night of the Triffids The Night of the Triffids
In John Wyndham's classic bestseller The Day of the Triffids the world has been overwhelmed by killer plants. As the novel ends, Wyndham's narrator scientist Bill Masen is escaping, with his wife and four-year-old son, to the Isle of Wight where a small colony of survivors is holding out. Simon Clark's sequel picks up the story twenty-five years on.
The Omega Factor Spider's Web
When a series of mysterious deaths confound the local press, Tom Crane feels compelled to investigate - despite explicit instructions from his superiors at Department 7 to stay well away. Perhaps his instincts have been clouded by his growing feelings for his colleague, Anne Reynolds, or his dislike for their boss, Roy Martindale, but as events start to spiral out of control, Tom realises he has seriously underestimated the powers that he is dealing with...
Sherlock Holmes The Hound of the Baskervilles
Sherlock Holmes is without doubt one of the most famous figures in the history of mystery fiction. Conan Doyle's beloved sleuth is back in brand new adventures and adaptations brought to life by Big Finish. Join Nicholas Briggs as Holmes and Richard Earl as Watson as they go head to head with new and old villains alike and once again solve the unsolvable!
Vienna The Memory Box
Impossibly glamorous bounty hunter Vienna Salvatori (Chase Masterson) takes on the galaxy's toughest cases and most vile villains in this lively spin-off from our Doctor Who adventure The Shadow Heart.
Head to https://www.bigfinish.com/offers/v/octoberoffer and enter code AUTUMN for access to all these fantastic special offers. The discount expires at 23:59 (UK time) on 07 October 2019, so move fast!